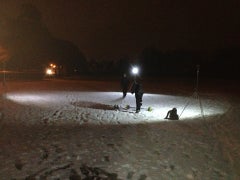 Today's Janathon contribution took the form of a circuits class this evening at Hervines Park in Amersham. It was cold and extremely vigorous, involving kettle bells and barbells, with various combinations of lunges, swings and the like. As usual, there was a good selection of cheery people there to make the whole experience more enjoyable, and the music, provided by yours truly, kept things moving nicely too!
Talking of which – has anyone got any interesting playlists they'd like to share? I'm always on the lookout for new sounds, whether for exercise or general listening, and would love some recommendations! Most of my playlists these days are in my account on Spotify (which I completely love), and you're welcome to poke around and see if there's anything you fancy – but I warn you, it's a bit of a disorganised mess right now! I will see what I can do about that some time soon, and share the best of the playlists then.
Anyway, now I am completely exhausted so once I've done my spractice (which hasn't been going very well for the last few days, but that's a different story) I will have had it!
Janathon activity: circuits
Time spent: 1 hour
Temperature: really very cold indeed